In New York, to Bridge of Spies (watchable, particularly for Mark Rylance, but with some awful sentimental stuff, like one killer line repeated three times, which ruins it) and to Brooklyn, from the Colm Toibin novel, which again had some sentimental moments but which was marvelous. In London, we went to the new Bond film (I thought truly awful, though watchable, but Kathy thoroughly enjoyed it).
Close to our flat was the John Soane museum, which I introduced to the children — it's one of my favorite places in London. Then the Goya exhibition at the National Gallery (eye-opening), the Tintin exhibition at Somerset House (fun), and Chris Beetles' new display of cartoons and other work off St James's, a packed opening night. Would I had the money to buy the Ardizzone or the Pont on display. And then the Chinese conceptual artist at the Royal Academy — Ai Weiwei, a knock-out.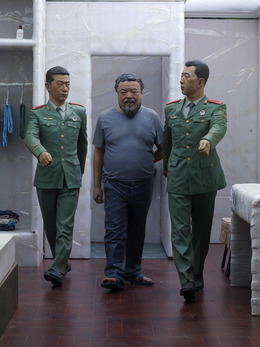 It didn't begin well, with a massive block of ancient wood depicting the geology of China, which was lost on me; and several pieces that were interesting from the point of view of their political impact but which didn't have much to please aesthetically; but as room followed room Weiwei's purpose became clearer and his work both more moving and more accessible. I went with a friend, Annette Kobak, herself an artist, and that made a difference. The above illustration is from a section of about eight modeled depictions of Weiwei's months in solitary confinement, where his every action was supervised by expressionless guards. He is not only a transforming artist, but obviously a very  brave man.